3rd Joint Action, 20-22.10.2021, Saclay, France, hosted by CEA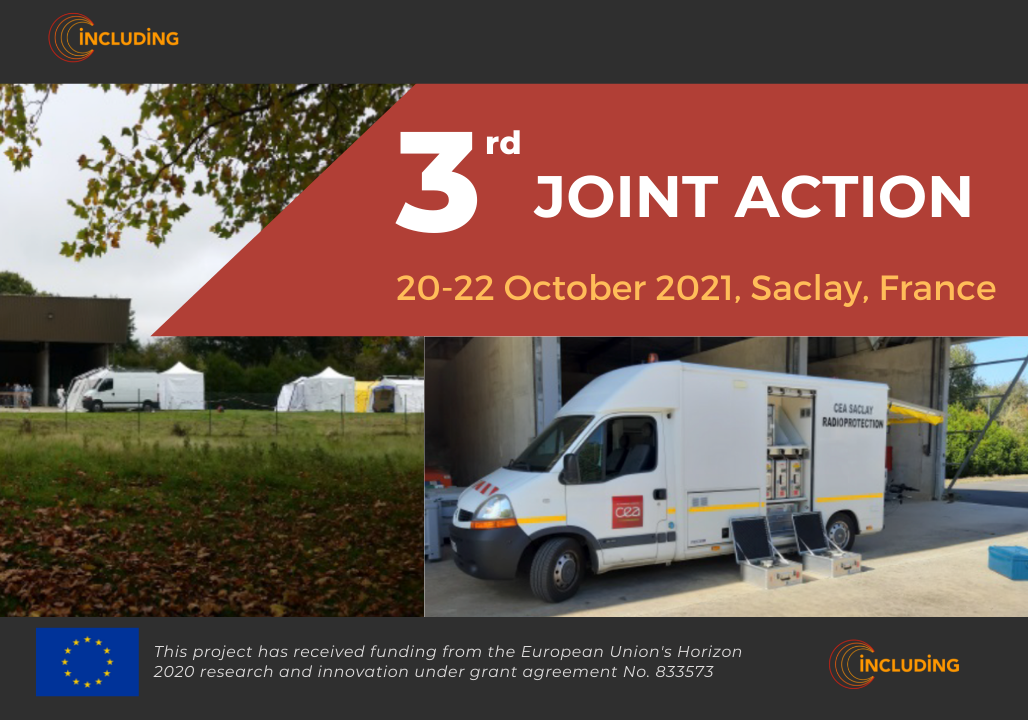 INCLUDING Project organizes in CEA Saclay (France) from 20 to 22 October 2021 a multidisciplinary field exercise.
This exercise is organized by the CEA, Commissariat à l'Energie Atomique et aux Energies Alternatives, located in the Essonne department, 20 kilometers from Paris. The exercise will be hosted at Area 500 of the CEA Research Centre in Saclay (Paris).
Area 500 is a fully equipped facility inside the CEA research centre of Saclay, 25 Km. South-east from Paris (France), for exercise and training sessions on Radiological and Nuclear emergencies. It will host from 20th to 22nd October 2021 the third Joint Action of INCLUDING and devoted to the identification, recovery and decontamination from 137Cs and 99TC orphan sources. In particular, 99Tc is a radioisotope worldwide used in hospitals for medical diagnostic and one of the few in the liquid phase at atmospheric conditions. On the afternoon of 20th October, the participants will be introduced to the exercise objectives and actions.
The full morning of 21st October will be covered by the exercise with deployment of equipment and sensors managed by the CEA intervention teams. On the afternoon there will be a hands-on training session where participants will learn more from the CEA experts on the tools used in the morning. On the morning of 22nd October there will be a plenary session with discussions on the activities carried out the day before and with the scope to identify areas of improvements and to build consensus on open aspects. This third Joint Action will have a mixed exercise/training nature, coherently with the INCLUDING project objectives and will mark a further possibility to use the INCLUDING Web based platform for the planning and execution.
External participants can join as observers to above events after contacting organizers (karim.boudergui[at]cea.fr).
Follow us for more information and news from the field exercise!
Event Information
| | |
| --- | --- |
| Event Date | 20-10-2021 |
| Event End Date | 20-10-2021 |
| Location | Saclay |
Venue Information - Saclay