Federation Open Day, 21 September 2020!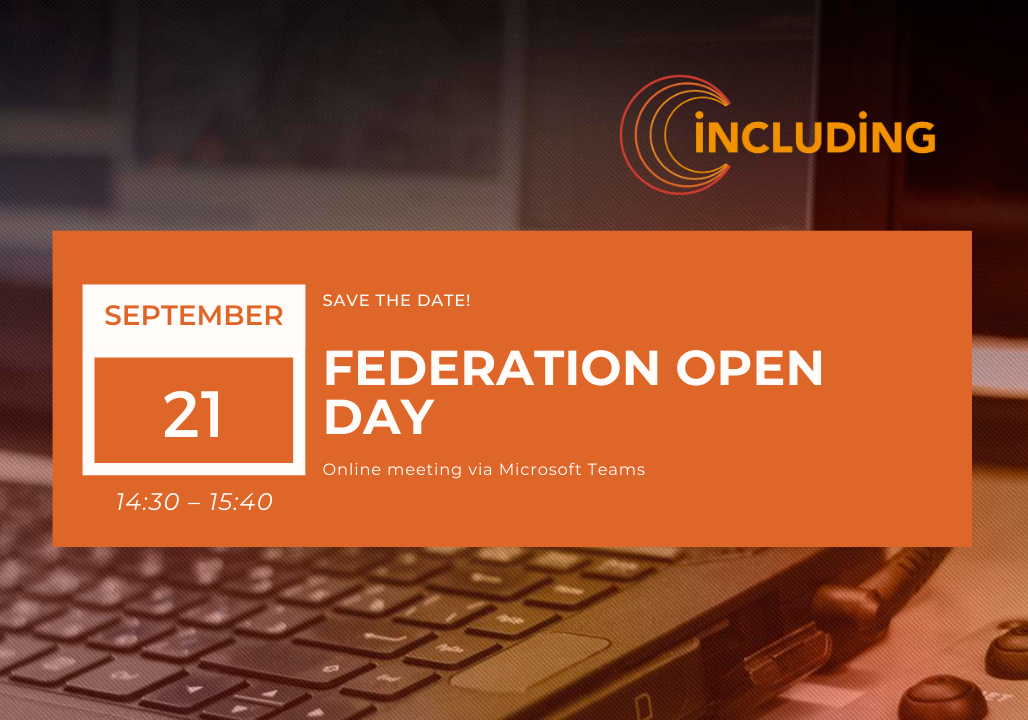 INVITATION TO THE FEDERATION OPEN DAY - 21 September 2020!
14:30 - 15:40 CET
We are happy to invite you to attend the H2020 INCLUDING project webinar, "Federation Open Day", on the 21st of September from 14:30-15:40 CET.
The main objective of the "Federation Open Day" is to exchange of expertise, knowledge and resources with other EU completed and on-going projects and existing clusters and to expand the cooperation with other national and international practitioner associations and projects.
WHAT WILL YOU LEARN FROM THE WEBINAR?
Background information about INCLUDING project.
The concept of the Federation – a cluster of radiological and nuclear security operators. The benefits of joining the Federation, presented by Luigi De Dominicis, Project Coordinator, from ENEA.
The details of the management tool for remote booking and utilization of resources in the Federation: the INCLUDING web-based platform, presented by Prof. Stathes Hadjiefthymiades from National and Kapodistrian University of Athens (NKUA).
The Federation testbeds and Joint Action events to be organised by the project:
>> Spring 2021: "Multi-agency field exercise to respond to a radiological incident", presented by Jyri Silmari from St. Michel Stad City of Mikkely (SSAV).
>> Summer 2021: a field demonstration at the Joint CBRN Defence Company, presented by Capt. Spyridon Kolovos from the Ministry of National Defence of Greece (HMOD).
The event will be chaired by Rachele Brancaleoni from Università Cattolica del Sacro Cuore (UCSC), an expert in protection against CBRNe events.
WHO SHOULD JOIN?
The Meeting is open to practitioners, innovators, suppliers and academia with an interest in the sector. In particular, it is welcomed the participation of members of ongoing EU projects within the areas of interest.
REGISTRATION:
Please, register at link (registration is mandatory)
The Meeting will be held via Microsoft Teams. You can access the meeting using the link provided after registration.
The webinar is English spoken.
Personal data will be processed according to Regulation (EU) 2016/679.
Agendas
14:30 – 14:35

Introduction

Rachele Brancaleoni (Chairperson)

14:35 – 14:45

The INCLUDING Federation

Luigi De Dominicis

14:45 – 15:05

The INCLUDING web-based platform

Prof. Stathes Hadjiefthymiades

15:05 – 15:15

The experience of SSAV as testbed: INCLUDING Joint Action

Jyri Silmari

15:05 – 15:15

The experience of HMOD as testbed: INCLUDING Joint Action

Spyridon Kolovos

15:15 – 15:25

Questions & Answers session

Rachele Brancaleoni (Chairperson)

15:25 – 15:35

Conclusions

Rachele Brancaleoni (Chairperson)