Multidisciplinary field exercise and 2nd annual workshop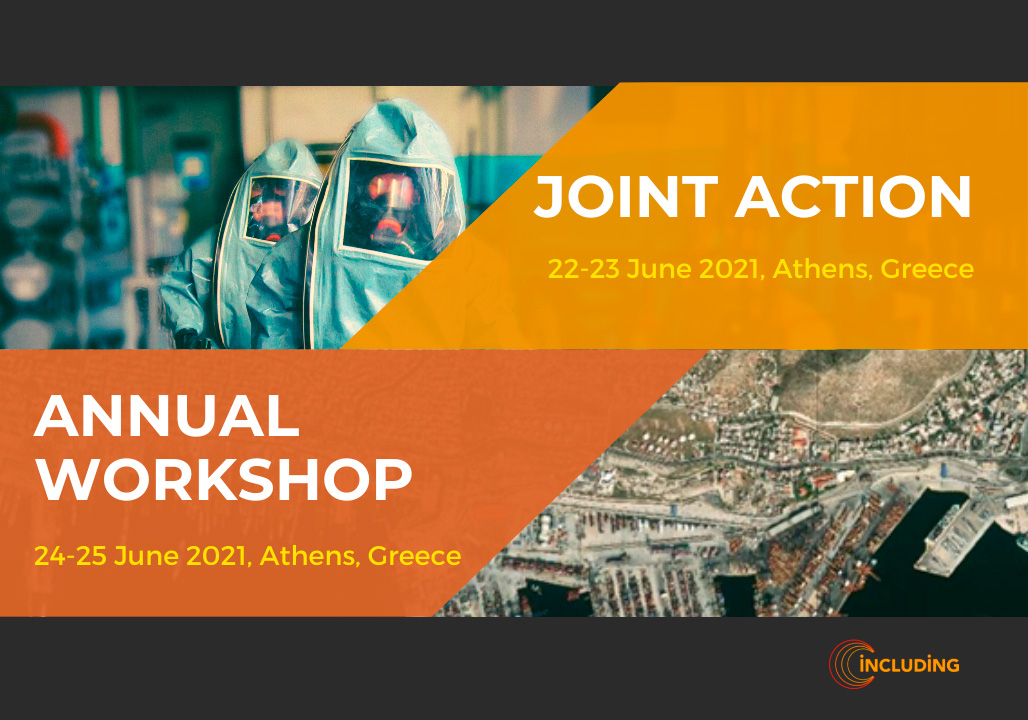 INCLUDING Project organizes in Athens (Greece) from 22 to 23 June 2021 a multidisciplinary field exercise (joint action). The organizing institution is the Hellenic Ministry of Defence (HMOD). The exercise location will be in Piraeus commercial port (Piraeus Port Container Terminal), placed in western outskirts of Athens.
The Athens CBRNe Joint Action will consist of a multidisciplinary field exercise dealing with counteracting an attempt to smuggle radioactive sources from the port. During the exercise it will be conducted extensive use of UAV / UGV technology, and it will be checked the interoperability of the tools shared in the Federation. It will be a full-scale exercise designed to establish a learning environment for participants to be trained in emergency response plans, policies and procedures in such situations.
In addition, the 2nd Annual Workshop will be organized from 24 to 25 June 2021 by the National and Kapodistrian University of Athens (NKUA). The program of the workshop will be linked to the exercise scenario.
External participants can join as observers to above events after contacting organizers.
AGENDA
Monday, 21 June 2021 Arrival of participants – Registration at the hotel
JOINT ACTION, 22-23 June 2021
DAY 1: Tuesday, 22 June 2021, location:

Piraeus Port Container Terminal
08:00 - 08:45
Transportation from hotel to Joint Action area
(HMOD will provide buses – from Athens Gate hotel)
09:15 - 09:45
Joint Action introduction
10:00 - 13:00 Joint Action execution (A part)
13:00 - 14:00 Lunch break
14:00 - 17:00 Joint Action execution (B part)
17:00 - 18:00 Return to hotel (HMOD will provide buses – to Athens Gate hotel)
DAY 2: Wednesday, 23 June 2021, location: Piraeus Port Container Terminal
08:00 - 08:45
Transportation from the hotel to the Joint Action area
(HMOD will provide buses – from Athens Gate hotel)
09:15 - 13:00
Joint Action evaluation
13:00 - 14:00 Lunch break
14:00 - 15:00 Return to the hotel (HMOD will provide buses – to Athens Gate hotel)
2nd ANNUAL WORKSHOP, 24-25 June 2021
DAY 3: Thursday, 24 June 2021, locatio

n:

National and Kapodistrian University of Athens
08:00 - 08:45
Transportation from the hotel to the Worshop area
(HMOD will provide buses – from Athens Gate hotel)
09:15 - 13:00 Workshop (A part)
13:00 - 14:00 Lunch break
14:00 - 17:00 Workshop (B part)
17:00 - 18:00 Return to the hotel (HMOD will provide buses – to Athens Gate hotel)
20:00 - 23:00 Social Dinner (hosted by HMOD)
DAY 4: Friday, 25 June 2021, locatio

n:

National and Kapodistrian University of Athens
08:00 - 08:45
Transportation from the hotel to the Worshop area
(HMOD will provide buses – from Athens Gate hotel)
09:15 - 13:00 Workshop (C part)
13:00 - 14:00 Lunch break
14:00 - 15:00 Return to the hotel or Airport (HMOD will provide buses)
Venue Information - Joint CBRN Coy premises
Joint CBRN Coy premises
Chaidari, Athens, Greece