1st Annual Workshop, 8 October 2020!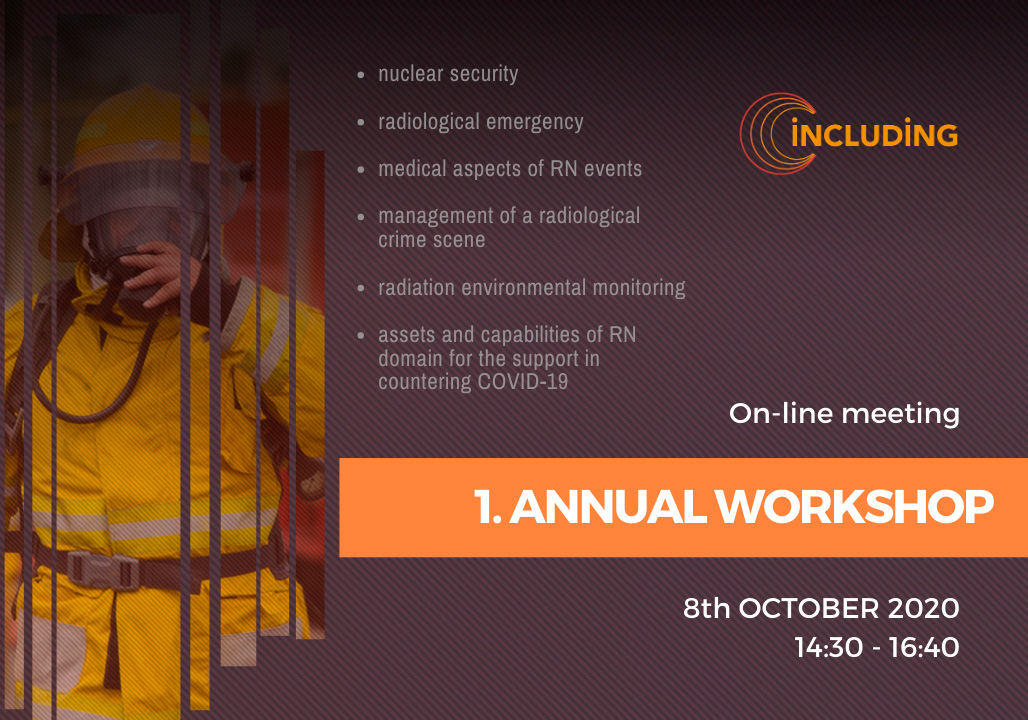 INCLUDING PROJECT 1st Annual Workshop
8 October 2020, 14:30 CEST
Online event – Microsoft Teams Platform
Initially planned in physical presence and with a two-days format, the 1st Annual Workshop of the INCLUDING project will be held as an online event with a duration of two hours.

The objective of the workshop, the first of a series of five planned annually till summer of 2024, is to put under the magnifying lens specific issues in the field of prevention and response to radiological and nuclear emergencies. The workshop is open to project partners and external participants upon registration and aims at boosting cross-fertilization between the INCLUDING project activities, other EU projects and institutional and industrial operators in the sector.

This 1st Workshop will be focused on three main topics.
The first is on open issues in nuclear security and with a focus on the status of the international activities, the management of a radiological crime scene and problems in medical aspects posed by specific scenarios.
The second topic deals with very recent events where radiation environmental monitoring has been key in assessing the possible onset of a radiological emergency.
The third topic is on possible use of assets and capabilities of RN domain for the support in countering COVID-19.

Each session will be followed by a Q&A timeslot.
REGISTRATION
Please, register at link (registration is mandatory)
The Meeting will be held via Microsoft Teams. You can access the meeting using the link provided after registration.
The webinar is English spoken.
Personal data will be processed according to Regulation (EU) 2016/679.
The video recording and presentations slides from the afternoon session can be found here:
Video: https://including-cluster.eu/videos/video_annualworkshop.mp4
Agendas
Chairperson: Rachele Brancaleoni

14:30

Scopes and Objectives of the Workshop

Luigi De Dominicis - Italian Agency for New Technologies, Energy and Sustainable Economic Development (ENEA).

Session 1: Open issues in nuclear security

14:35

Global Nuclear Security: where do we stand?

F. Padoani – ENEA

14:50

Radiological Crime Scene Management

A. Liceia - Policia Seguranda Publica (PSP)

15:05

Medical aspects in RN Emergencies

D. Gui and R. Brancaleoni – Catholic University of the Sacred Heart (UCSC)

15:20

Q&A

Session 2: Recent facts in RN emergencies

15:25

Hidden RN emergencies: the anomalous radioactivity measurements in Scandinavia in June 2020

F. Rocchi and A. Cervone – ENEA

15.40

Procedures in national and international level when dealing with a major blast including radiological material

Capt. S. Kolovos – Hellenic Ministry Of Defence (HMOD)

15:55

Case study: the Beirut explosion of 4 August 2020

A.D'Angelo, Col. Emmanuel Bouquot, L.Col. Andre Gloria - Security And Freedom for Europe (SAFE)

16:10

 Q&A

Session 3: Possible use of assets and capabilities of RN domain for the support in countering COVID-19

16:15 

Ionizing radiations in support to the pandemic emergency response

G. Marzo – ENEA

16:30

Feedback and Perspectives

16:40

End of the meeting