3rd Annual Workshop and 4th Joint Action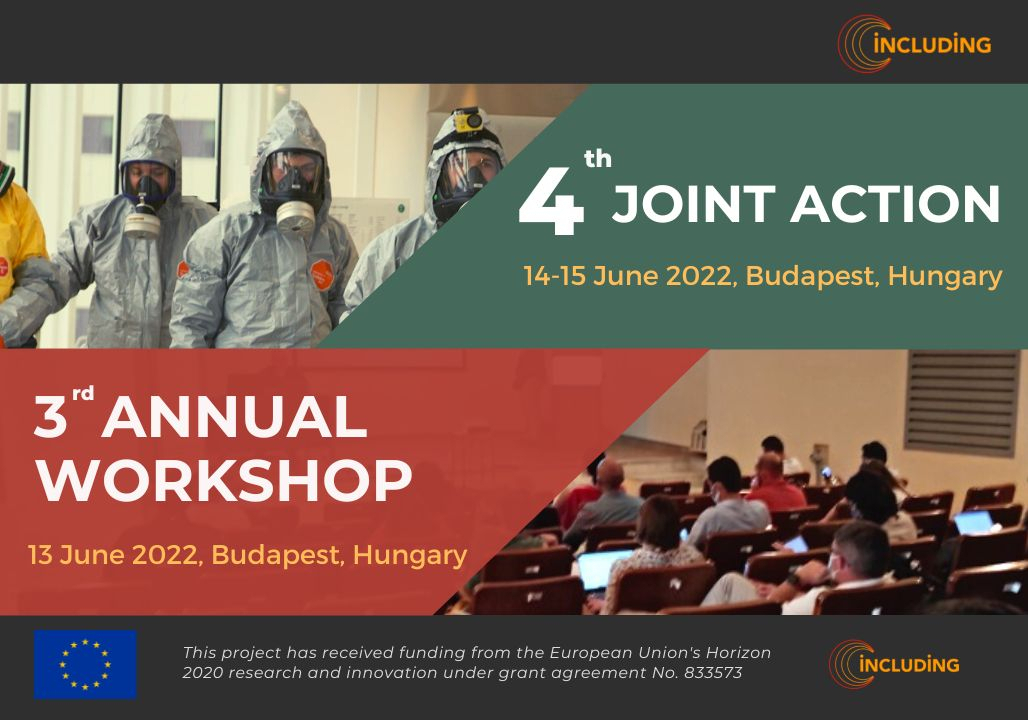 The Centre of Energy Research (CER) in Budapest organized and hosted from 14th to 16th June 2022 the 3rd Annual Workshop and the 4th Joint Action of the INCLUDING project. The two events was devoted to a specific aspect in Nuclear Security and specifically the Radiological Crime Scene Management (RCSM). The choice of the subject is motivated by the fact that the Department of Nuclear Security of CER has a proven track record in research and innovation in RCSM and steadily organizes training and exercises activities for LEAs and others First Responders.
Both the events will be focused on open issues in a relevant topic for INCLUDING, like the management of a radiological crime scene. Experts from all over Europe will be gathering together in Budapest to discuss current criticalities on the matter also in light of emerging scenarios.
The events will start on Monday the 13th of June with the 3rd INCLUDING Annual Workshop. The workshop programme assumes the welcome notes given by Dr. Á. Horváth, Director General, Centre for Energy Research (EK) and INCLUDING Project Coordinator.
On 14th 2022 a 4th INCLUDING Joint Action - The Radiological Crime Scene Management (RCSM) demonstration will be held. The RCSM Joint Action (JA) location will be in the outdoor training site at the Centre for Energy Research, Budapest, Hungary. The Hungarian JA RCSM demonstration will include the prevention of a planned terrorist action involving the use of radioactive material. Before the demonstration, a short introduction will be presented about the background of the planned action and the latest news from intelligence sources.
The RSCM Joint Action will include also a virtual gamma presentation, ENEA drone demonstration, Hungarian drone demonstration and the detector EK system demonstration.
As in the tradition of INCLUDING, on Wednesday 15th June, the JA will be followed by a plenary meeting where stakeholders will meet each other for evaluation and to raise consensus on the matter.
Venue Information - Centre for Energy Research (EK)
Centre for Energy Research (EK)
Konkoly-Thege Miklós út 29-33
Budapest, 1121 Hungary