2nd annual workshop 24-25.06.2021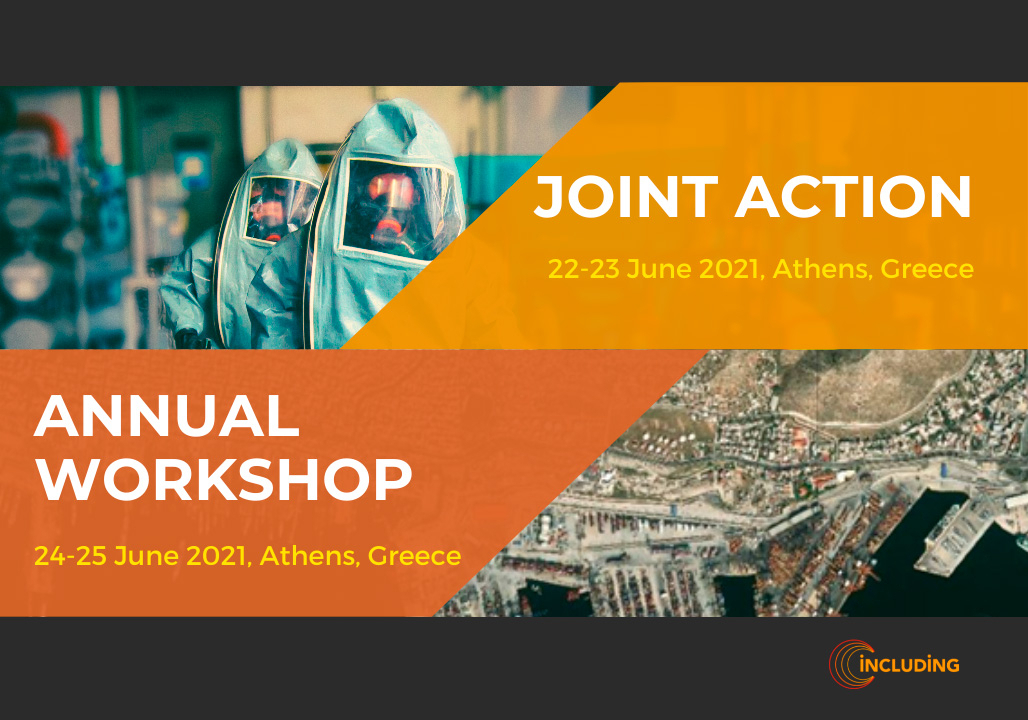 INCLUDING Project organizes in Athens (Greece) from 22 to 25 June two events:
22-23 June 2021 a multidisciplinary field exercise (joint action) dealing with counteracting an attempt to smuggle radioactive sources from the port. During the exercise it will be conducted extensive use of UAV / UGV technology, and it will be checked the interoperability of the tools shared in the Federation. It will be a full-scale exercise designed to establish a learning environment for participants to be trained in emergency response plans, policies and procedures in such situations.
24 to 25 June 2021 the 2nd Annual Workshop - "Nuclear Security in Maritime Infrastructure" oragnized and hosted by the National and Kapodistrian University of Athens (NKUA). Following the two days exercise at Piraeus Port Container Terminal, the workshop will put under the magnifying lens open issues in prevention, detection and response to Nuclear Security scenarios in maritime infrastructure and primarily in designated points of entry like ports.​
The Workshop has the scope to discuss:​
Strategic issues and the international legal framework​
Operational capabilities and innovation
Cooperation between EU projects and international activities​​​
The Workshop is upon invitation and open to practitioners, innovators, suppliers and academia with a role and interest in the subject.
All the times in the program are in local time UTC+3
Location: Joint CBRN Coy premises, Chaidari, Athens, Greece
The Workshop is organised in physical presence. Due to the particular situation with pandemic, the event will be livestreamed to interested stakeholders. If you are interested to follow the INCLUDING 2nd Annual Workshop livestream, please contact the organizers for having the access criteria: /
Venue Information - Joint CBRN Coy premises
Joint CBRN Coy premises
Chaidari, Athens, Greece
Agendas
Day 1 - 24 June 2021

09:30

Opening and welcome:

Prof. S. Hadjiefthymiades - National and Kapodistrian University of Athens NKUA (Greece)​
L. De Dominicis – Agency for New Technologies, Energy and Sustainable Economic Development ENEA (Italy)

Session1: Nuclear Security in Maritime Infrastructure - strategic landscape

Chairperson: K. Boudergui (CEA)

09:45 

Measures / procedures on countering illegal trafficking of radioactive material​

A. Boziari - Greek Atomic Agency Commission EEAE (Greece)

10:05

ASRN and Nuclear Security in Maritime Infrastructure

I. M. Moussa – Président de l'Autorité Nationale de Radioprotection de Sureté et de Sécurité Nucléaire ASRN (Mauritania)

10:20

Forensic aspects of chain of custody in maritime critical infrastructure

A. Rizzo – ENEA (Italy)

10:40

NSCOE practices in conducting Field exercises

L. Aleksejus - Nuclear Security Centre of Excellence NSCOE (Lithuania)

11:00

Coffee Break

Session 2: Nuclear Security in Maritime Infrastructure - operational landscape

Chairperson: D. Neimontaité (NSCOE)

11:15

INCLUDING Federation: Model & Platform

Prof. S. Hadjiefthymiades - National and Kapodistrian University of Athens NKUA (Greece)​

11:45

Crisis Management Research at Fraunhofer IVI

R. Hedel - Fraunhofer IVI (Germany)

12:10

Immersive Virtual Reality Training for CBRN scenarios

M. Melo - INESC TEC (Portugal)

12:30

Lunch Break

14:30

Operational aspects of civil-military cooperation in radiological security scenarios on maritime environment

S. Kolovos – Hellenic Ministry of Defence HMOD (Greece)

14:50

UAVs in maritime security

A. Nadziejko – Tekever (Portugal)

15:10

 Affordable radiation detection system for UAV applications

Lt. F. Fumian - Italian Joint NBC Defence School (Italy)
PhD. A. Chierici - University of Rome "Tor Vergata" Industrial Engineering Dpt. (Italy)

15:30

 CAEN Innovation in Security

J. Givelotti - CAEN (Italy)

15:50

Coffee Break

16:00

Operational activities in preventing, detecting, and responding to a Nuclear Security event in maritime infrastructure​

M.M. Mounja – l'Autorité Nationale de Radioprotection de Sureté et de Sécurité Nucléaire ASRN (Mauritania)​

16:20

Terrific project

K. Boudergui – French Alternative Energies and Atomic Energy Commission Cea (France)

16:40

 Day Wrap up and Conclusions

Day 2 - 25 June 2021

Session 3: Nuclear Security in Maritime Infrastructure - Collaboration among projects and international activities​

Chairperson: Capt. S. Kolovos (HMOD)

09:30

Inspection in maritime infrastructure: the C- Bord project ​

K. Bodor - Hungarian Academy of Sciences Centre for Energy Research MTA EK (Hungary)​

09:50

EU- HYBNET and links with INCLUDING 

R. Brancaleoni – Università Cattolica del Sacro Cuore UCSC (Italy)

10:20

 Including citizens and practitioners in CBRNe research & exercises: the PROACTIVE approach

L. Petersen – International Union of Railways (France)

10:40 

The UrbanAware CBRN/HazMat Information Management System for incident planning, training and response

M. Purves - Riskaware (UK)

11:00

Coffee break

11:15

EXERTER

Kemea - to be confirmed

11:35

Medical aspects of CBRN threat

Col A. Zafirakis, hellenic Army General Hospital (Greece)

11:55

Final Remarks and Conclusions
Gallery